From days of tweeting 'ANNOUNCE AUBA' to every tweet put out by the Arsenal account, to 35,000 gooners tracking his private jet from Germany, the Arsenal fans have finally got their man in Pierre-Emerick Aubameyang.
The January transfer window has provided some interesting new FPL options with the Alexis/Mkhitaryan swap deal, Walcott moving to Everton and Daniel Sturridge looking to re-discover his form at West Brom. However possibly the most explosive addition could be Auba's move to the Emirates…
The striker's period in Germany was extremely prolific and was second only to Robert Lewandowski in terms of Bundesliga goals. Aubameyang scored 98 league goals in 143 games meaning he had an impressive goals to game ratio of 0.68. His last two seasons produced 78 goals in all competitions. The Gabonese striker also arrives to the Emirates in good form with 13 in his last 16 league games.
Unsurprisingly he averages a high shot volume (3.6 spg) and a lot of those shots come from inside the box (97 of his 98 goals within the 18 yard box). With creative players like Mesut Ozil and Aaron Ramsey around him and his old Dortmund teammate Henrikh Mkhitaryan, you would assume that he would be getting a similar amount of chances.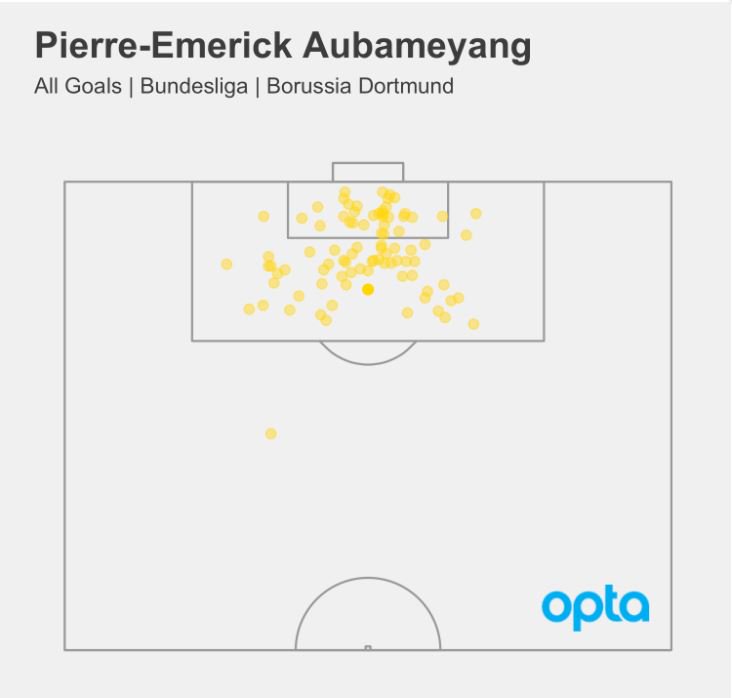 Auba has scored (12) and missed (19), the most clear-cut chances in the Bundesliga this season highlighting that he gets into great goal scoring positions consistently.
As an experienced, world-class forward there is no reason why he won't hit the ground running in England and produce a similar volume of chances. In recent years, players who have come over from the Bundesliga have had an impressive record in England and settled quickly. Players like Kevin De Bruyne, Roberto Firmino and Leroy Sane have now established PL players and great FPL options.
It is clear that Alexandre Lacazette has not settled well at Arsenal and goals have been a hard to come by. There is a thought that Auba was not signed to replace Alexis, however, Lacazette himself as Arsene Wenger has not been impressed with the Frenchman's lacklustre start to his Arsenal career.
Interestingly when Wenger was pressed on whether Lacazette would keep his place in the starting XI, he said "I don't reassure people, we are in a competitive world. We have also chosen a job where there is competition, you have to fight for your place".
It is unlike Wenger to be this ruthless with a player who has only been at the club for six months but Arsenal are languishing in 6th place and eight points off the top four. My gut instinct is that after spending £57m, Auba will go straight into the first XI and remain their form provided.
VERDICT
Over the course of the next 15 games, there is a strong chance that Auba will be first choice #9 at Arsenal, and indeed he will score a lot of goals. It would be wise to avoid him for the next two Arsenal fixtures (Everton home, Spurs away), and wait to assess his performance. At 10.5 he is priced in the premium forwards rate, yet his goalscoring record and FPL potential is enough to justify that price tag. With Harry Kane a must for every fantasy manager, there only leaves room for one extra expensive forward. It will be interesting to see if Aubameyang will be able to keep goal-scoring pace with the likes of Sergio Aguero and Roberto Firmino, however, his history suggests that he is more than capable.