Euro 2020 Fantasy Tips: Round of 16 Wildcard – Matchday 4
Round Of 16 Wildcard guide for Matchday 4 for the official Euro 2020 fantasy game presented by the brilliant Jian Batra.
This article will focus on the best 15 players to make up your Euro 2020 Wildcard squad with individual analysis on all of them and includes a captaincy guide at the end!
Find all our other Euro 2020 Fantasy Football content here which includes how to play guides, further team previews, team reveals and more!
You can also find our Euro 2020 Round of 16 Preview here.
Euro 2020 Matchday 4 Wildcard Team: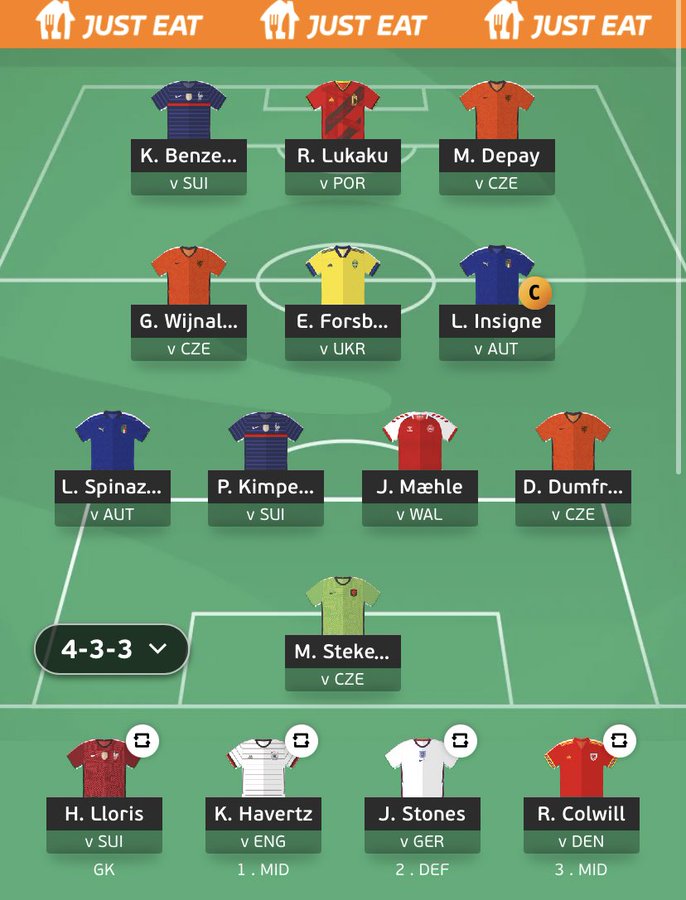 Triple French –
Presnel Kimpembe + Hugo Lloris

–
Both are simple choices for me, excluding Varane they are the only nailed French defensive assets.
Kimpembe at €5.6M is the cheapest of the three in consideration and I predominantly want full backs/wing backs in regards to the defenders I own. 
This solidifies that Lloris is a better option than Varane in this instance.
Switzerland followed by the winner of Croatia vs Spain, shouldn't present too many defensive difficulties, meaning the clean sheets are fairly safe and allows me to enter the Quarter Final with three players already banked without having to use any free transfers.
Of course this is all based on the assumption that they win, however I think Croatia and Spain will struggle to play directly through the French defence, given their attacking set ups respectively and against the Swiss if they nullify Shaqiri by crowding out the midfield, they will also struggle to create.
(The same team analysis follows for Karim Benzema)
Karim Benzema –
With Mbappe shifting to the left side more and more, Benzema's central positioning provides a easier avenue for goals. His increased involvement will not only lead to a higher percentage chance of goals but also assists.
A brace against Portugal including a penalty secured my decision. Penalties are becoming an even more viable way to rationalise bringing in players with VAR stamping down on many incidents inside the box. In a short tournament form is essential, and Benzema will likely maintain it over the four (maximum) games remaining.
He has a point to prove to the French public.
Quadruple Dutch –
Maarten Stekelenburg + Denzel Dumfries –
Half of my Dutch quadruple.
A bold move, yes but one which is logical for these reasoning given below.
Given what we have seen I think the conclusion can be drawn that the Netherlands are a better side than Denmark, Wales and their Round of 16 opponents; Czech Republic. I'm not saying that the disparity is huge but it's still there.
With none of the three sides mentioned above boasting a particularly menacing attack either, in regards to teams they will/may face on their route to the semi final, I expect at least one clean sheet out of the two games and would consider it rational optimism to expect clean sheets in both.
Dumfries reminds me of the Alonso which we saw under Conte at Chelsea. A complete licence to fill both a winger's and inside forwards role, and his general athleticism will allow him to continue to do so for 90 minutes. For those who have read my previous work, you will know I love high ceilings and that is exactly what Denzel Dumfries has.
To reiterate the point made about Benzema, continuing form in short tournaments is far easier than across a duration of an entire season and this factor should be taken into account.
Stekelenburg presents excellent value for money, and plays on a different day to Lloris.
Gini Wijnaldum + Memphis Depay –
The other half of my quadruple.
Like I said, I expect the Dutch to get to the Semi Finals at least, and wouldn't be surprised if they surpasses this, as they can certainly beat both England and Germany.
Any form of the 3-4-3 will hurt England, as the opposition will constantly overload them on the flanks, and in order to cover the two No. 8's get stretched allowing players like Gini to fill in the massive gaps centrally, and giving players of his quality that type of time and space, you're practically asking to concede.
Reference the Havertz goal in the Champions League final, if you study the build up and phases of play beforehand, that's exactly what happened.
Providing this happens Depay will be in consideration for Player of the Tournament. I've been so impressed by him; his movement, passing, positioning and build up play has been fantastic.
Defences will struggle to defend against him without the system being tailored to covering his utilisation of inside channel running especially. Another reason why a three back is needed against the Dutch.
This provides such a high ceiling given his overall involvement as well, which is essential for fantasy accumulating fantasy points.
Wijnaldum like his teammate has been brilliant. A brace against North Macedonia was just the icing on the cake, his positioning is one of a No. 10 and one thing which has gone unnoticed is his Gundogan-esque underlying runs from deep (highly effective as seen from the Premier League season).
I'm bullish on the Dutch.
Double Trouble; Italy –
Leonardo Spinazzola + Lorenzo Insigne –
Italy have been brilliant so far and I expect them to have way too much for Austria.
I don't really expect Austria to make much, if anything and as such the clean sheet looks fairly secure. Combine this with Spinazzola's excellent attacking threat which we have seen, and it screams a monster haul.
One thing I really like about this partnership on the pitch is how Insigne almost plays as a inside forward rather than a winger, so Spinazzolla is required to hold the width increasing attacking involvement.
Insigne has looked dangerous, and will continue to cause the Austrian defence problems. I think he's been slightly unlucky in terms of output, and returns for managers are due.
My problem with Austria is that if they play three at the back, which I expect they will, from what I've seen there isn't enough versatility of positional play within games to stretch the Italian defence to create opportunities for better passing lanes or runs in behind.
With an assumption they reach the Quarter Final at least, and only a double up, I think it's a fairly risk adverse option.
Romelu Lukaku –
Three games, three top performances. They were complete in terms of finishing, build and hold up play, and general involvement.
Even with Portugal reverting to a 4-3-3 from their dire 4-2-3-1, I still feel Belgium will beat them.
Portugal's strength against France was their ability to press the French midfield high on correct occasions but given a different system which the Belgian's implement, I expect them to eventually find a way to play through it (quite comfortably).
Lukaku's involvement in everything will be apparent as per usual. Where I particularly think Lukaku can thrive is with his left sided runs into the half space channel against Semedo. He did this against Brazil in the 2018 World cup to good effect, and I expect the same here.
I expect Belgium to beat Portugal and also Italy which means Lukaku can remain till at least the Semi Final.
This is based on an assumption, but I think Italy may struggle against Belgium (I will discuss this in the future should it arise).
Cristiano Ronaldo and Kevin de Bruyne are the only players I'm afraid of not owning.
Emil Forsberg –
A one game punt. I've learnt not to ignore form, especially not in a small time frame.
I expect Sweden to beat Ukraine, then lose the Quarter Final, so I will take him out beforehand.
Ukraine were generally very poor against Austria and I think the Swede's present a slightly tougher test.
Forsberg (€7.7M) is fairly cheap, which allows me to facilitate three premium forwards.
Joakim Maehle –
Wales shouldn't be overlooked but neither are they the biggest threat.
Given the Danish system (three at the back) and personnel (Hojberg in midfield breaking up the play and three physically strong centre back's with a relatively fast step up and drop off), they are difficult to build and create chances against.
I expect them to beat Wales and as seen in the tournament and especially against Russia he has attacking threat + at €4.5M, you aren't getting better value for money.
Kai Havertz + John Stones –
I've included them together as I think the game between England and Germany is a real 50/50.
England have the better squad but Germany the perfect system to counter the 4-3-3 by overloading the wide spaces and going 3-2-5 on the ball.
Both will start and are nailed which is a positive.
I'm almost hedging my bets with this play, I expect the one that returns in this game to also return to the Quarter Final so I think given I have no wildcard it's a sensible move.
Havertz is in brilliant form and Stones has been very secure.
Enabler – Colwill
I understand given we have manual substitutions people don't like this strategy.
However it worked for me last week in the form of Nego, so I'm doing it again.
I don't think it's worth compromising two players for the sake of it when only one of the budget midfielders will likely play in your final XI.
Wildcard Matchday 4 Captaincy –
Ranked in order
(Depending on who you own)
Saturday – 1. Immobile, 2. Insigne
Sunday – 1. Depay 2. Gini 3. Lukaku 4. Ronaldo 5. KDB
Monday – 1. Benzema 2. Mbappe 3. Griezman
Tuesday – 1. Forsberg 2. Havertz
Other Euros Content
Find all our other Euro 2020 Fantasy Football content here which includes how to play guides, team previews, team reveals and more!
Fantasy Premier League is here!
We have also started our Fantasy Premier League coverage in our FPL Ultimate Guide with everything you will ever need to become a better fantasy football manager and dominate your mini-leagues!
I hope this article has helped, and there is a free trial down below for a membership including all of our great features including member only articles, detailed statistics and much more!
Feel free to DM me on twitter, @FPL_JianBatra, for any questions you may have (or drop them below), support on the account is much appreciated, so thank you.
Become a Hub member for free
What do members get access to?
New app
Follow the Hub
Twitter | Facebook | YouTube | Instagram | Tiktok
And view all our latest fantasy football tips on our Homepage