Fantasy Football Hub's Rebant Malhotra takes us through the various strategic options available to us to plan for, and navigate through, blank Gameweek 31.
The last quarter of Fantasy Premier League is always interesting with the fixture list rewarding us with blank and double gameweeks. As someone who has overtaken (and has been overtaken by) rivals, the final leg of the game is often the best time to deploy your chips and get an advantage added to your final points tally.
Using Ben Crellin's fixture chart, we know that Wolves, Bournemouth, Burnley and Watford will surely be playing. If there are no surprises, a probable fixture that will get added is Norwich v Everton.
A lot will also depend on the Liverpool v Chelsea FA Cup game. If Klopp once again fields a team of youngsters then there's a chance of Chelsea winning the game, effectively confirming the fourth fixture in Liverpool v Crystal Palace.
Before embarking on understanding the various scenarios that us FPL managers could face, let's get down to understanding the individuals that we currently have from the above-stated teams.
If you're an active manager, there's a likelihood of you having at least some of the below-mentioned players
From the confirmed teams:
Wolves: Jimenez, Traore, Defender (Saiss, Doherty, Boly)
Bournemouth: Rico, Ramsdale, Wilson(s)
Burnley: Pope, Taylor (or other defenders), Wood, McNeil, Vydra
Watford: Foster, Cathcart, Sarr, Deulofeu, Deeney
From the probable teams:
Everton: Holgate, DCL, Richarlison, Digne, Sidibe
Norwich: Pukki, Krul, Cantwell
Liverpool: Salah, Mane, Firmino, VVD, Alexander-Arnold, Robertson, Allison, Gomez
Crystal Palace: Guaita, Zaha
Your first step would be to count your total players from these teams to understand where you would stand if the GW was to be held right away.
I would have Rico, Taylor (+ Salah, Mane, Alexander-Arnold, Cantwell, DCL) a net total of 7 players. This will act as the base level that you would be operating on for blank Gameweek 31.
The scenarios you as a manager would face are as follows:
WC and Freehit left
WC used and Freehit left
WC left and Freehit used
WC and Freehit both used
Most of us would probably fall in the 1st or 2nd category, which makes it somewhat easier to navigate the blank Gameweek in case only 2-3 fixtures finally get confirmed.
I would also club category 3rd and 4th together since using the wildcard to prepare a team for the blank Gameweek would not be a prudent decision.
The first key decision, that you as a manager would have to take is simply whether you want to use the freehit or not (if you have one). This will be subject to:
Answers in the brackets are from my team
How many players do you currently have? (7)
If Liverpool do not play, how many do you have? (4)
Which teams (except LFC) do you trust would do well in the BGW? (Wolves, Everton, Burnley)
Once you have these answers ready, prepare a list of players who you DO NOT own and may hurt your rank (High effective ownership) in case you do not have them for the blank Gameweek. Alternatively, if you're feeling adventurous you could bring in certain low ownership players to get those differential points if you are currently chasing the pack.
This becomes your priority list and should be the first players you transfer in IF you do not want to use the freehit chip like me.
While several users have commented on using the freehit chip to gain ground in Gameweek 31, I personally do not find much value in players apart from the ones I have mentioned below in my priority list (This will naturally differ from person to person).
For me, if I can field 6-7 players (+3 Liverpool), then I will NOT BE using the freehit.
In case Liverpool do blank, then again I do not see much value in using the freehit chip due to the quality of teams, which means I will again just prioritise the players I don't have from my list, effectively fielding not more than 7 or 8 players.
However, if you do find yourselves in a spot where you have less than 5 players for BGW31, then I believe it would be in your best interest to use your freehit chip in the blank Gameweek itself.
I will keep updating this article, as and when the fixtures get confirmed.
Happy Transferring!
*Update*
With the fixtures now confirmed, it is time to get back to the drawing board. The past week has made things all the more interesting, with the MCI-ARS game postponed to a later date (unknown). The now confirmed fixtures for BGW31 are as follows: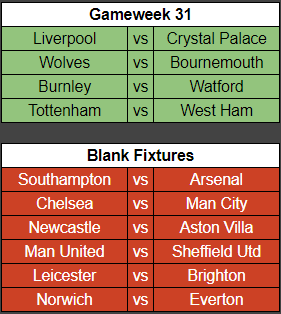 The NOR-EVE blank put my earlier plan of using FTs to sail through BGW31 into jeopardy and I used my WC to capitalise on DGW29 and at the same time prepare for BGW31.
To reiterate, the fixtures for BGW31 look bleak and most people will already have tripled on Wolves & Liverpool, which leaves 5 other spots for your team.
To further understand which players to bring in, we can use the graphic below to see the past trends and understand which players have performed well in the last 10 Gameweeks.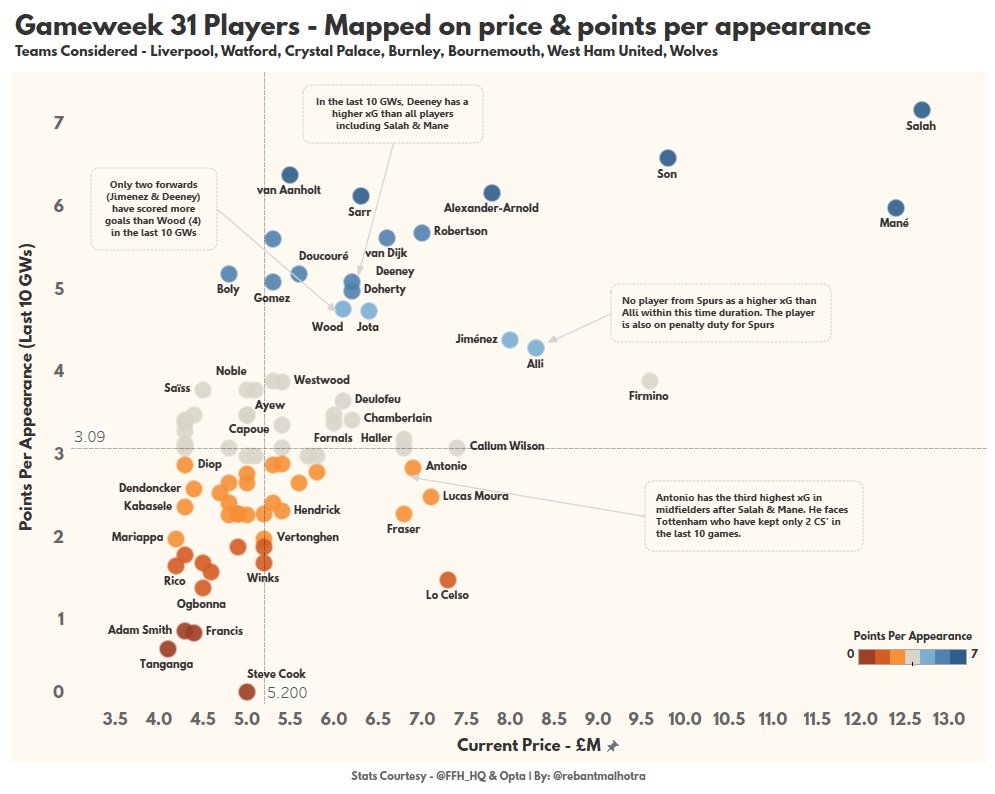 Using the sword and shield analogy*, my new target list would look something like below.
| | |
| --- | --- |
| Sword | Shield |
| Antonio | Jimenez |
| Alli | Jota |
| Deeney | Doherty |
| Wood | Sarr |
| Doucoure | Pope |
*shield are picks to protect rank, whereas sword helps to attack for a better rank. 
The Freehit chip continues to look better placed for the probable BDGW34, due to the uncertain nature of that week coupled with the fact that fixtures for 31 do not look quite solid. However, as stated if you are unable to put out more than 6 players, then there is a strong case to be made for the Freehit chip.
If I were to play my freehit, my team would look like this:
     Patricio 
      Alexander Arnold – Doherty – Taylor 
  Mane – Salah – Antonio – Alli 
   Jimenez – Wood – Deeney
For more information on upcoming Blanks and Doubles please see our guide here and we will update this article as and when we get any more information so stay tuned.
Thanks to Ben Crellin again for doing all the hard work and you can access his handy planning sheet here to navigate all the Doubles and Blanks effortlessly.
Double Gameweek Guide
Premier League Fantasy Football Double Gameweek & Blank Gameweek Chip Strategy 2020 | Fantasy Football Hub
Follow the Hub
Twitter | Facebook | YouTube | Instagram
And view all our latest fantasy football tips on our Homepage