Euro 2020 Fantasy Football Tips – Belgium
Euro 2020 Fantasy Football Tips by the Hub's Euros' expert @CoysFPL.
In this team preview series, Dan reviews all 24 teams participating in Euro 2020 and details their route from qualification, expected lineups, best player picks, under the radar gems and players to avoid.
Belgium are in Euro 2020 Group B with: Russia, Denmark and Finland.
Find all our other Euro 2020 Team Previews here which will be updated daily as the competition draws closer!
Route from qualification
Belgium qualified comfortably, winning all 10 games and only conceding three times (joint least). They also scored the most goals of any team in qualification (40). Their group was certainly on the easier side however.
Since qualification, Belgium have only lost once in nine competitive fixtures (to England in the Nations League). In the nine games, they have kept three clean sheets, and scored 28 goals.
However, in the last seven games against teams that qualified for the tournament, they have only kept one clean sheet. They haven't failed to score in a game since 2018, a spell that totalled 27 games, 16 against qualified teams. In those 16 games, they scored 40. I don't think the defence is worth investing in, although at least one of their attackers is essential.
The defence is a worry, given their inability to shut-out top sides. For that reason they're immediately removed from my contenders to lift the trophy. However, they should comfortably reach the last 16 at a minimum.
Fancy playing Euro 2020 Fantasy Football for a share of £1,000,000? FanTeam are smashing all records to bring us this extraordinary competition! Enter here or in the banner below or see our FanTeam Euros 2020 Guide here.

Belgium Euro 2020 Expected line-up:
They line up a 3-4-3 formation.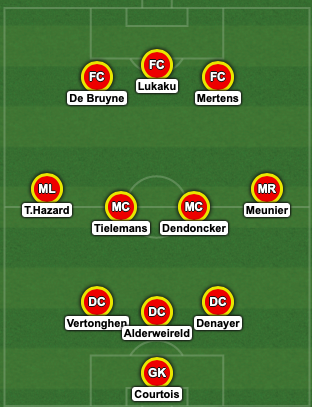 I need to add that predicting the line-up is difficult. Eden Hazard could easily come in, pushing Youri Tielemans out of the starting XI and Kevin De Bruyne into the double-pivot.
Due to Hazard's recent injury problems, we haven't had the chance to see how the likes of Tielemans, De Bruyne, Dries Mertens and Leandro Dendoncker will be affected by his reappearance.
So at the moment, I am leaving him out (I actually think it is a plausible prediction, given Tielemans' club form and De Bruyne naturally performing better further up-field).
On the other hand, Hazard could just come in to the line-up as a straight-swap for Dries Mertens.
Thomas Meunier and Thorgan Hazard could also be benched for Timothy Castagne, who can play in either wing-back position.
Belgium Euro 2020 Best player pick:
Romelu Lukaku is the only player in the game I class as 'essential'. He takes the penalties (when Hazard isn't playing), is the focal point in an attacking side and has a fantastic national team record.
He has seven goals in his last six caps and totalled seven goals and four assists in the five qualifying games he was fit to play in. He is a must-have in my opinion given his promising fixtures.
Lukaku is in the top five for goals and assists combined in the top five European domestic leagues this season.
To bring in alongside Lukaku:
The pick of the midfield is the main man Kevin De Bruyne who takes all set-pieces (except penalties) and should play in a very advanced role. Just like Lukaku, I think he is essential, if he plays in that front 3.
Dries Mertens is a decent choice; he has three goals and two assists in last six Belgium starts; I would definitely focus on getting Lukaku over him, however. Mertens is also in the top 10 for goals and assists per 90 in the top five European divisions.
Penalty-taker Eden Hazard is of course a good option should he start, but his club form is poor, with only four goals this season. Maybe avoid him, unless we get conclusive evidence suggesting he'll start.
Under the radar players
Thomas Meunier and Timothy Castagne are both exciting options if it becomes clear which (or both) will start. There is also a chance that Castagne starts on the left side.
Meunier has 21 goal involvements in 46 caps, which is unheard of for a 'defender'. Castagne is less experienced at international level, but has scored twice and assisted twice in 12 international appearances.
Players to avoid:
I personally think that defensive options Jan Vertonghen, Jason Denayer, Toby Alderweireld and Thibaut Courtois aren't worth having. None provide any real attacking threat and Belgium's defensive record isn't as smart as an outsider would expect. Don't discount completely, but other defenders at the same price are favoured.
Also avoid Thorgan Hazard, Youri Tielemans and Leandro Dendoncker, who aren't nailed and don't provide the attacking numbers to warrant a place in our fantasy sides.
Find all our other Euro 2020 Team Previews here which will be updated daily as the competition draws closer!
Become a Hub member for free
What do members get access to?
New app
Follow the Hub
Twitter | Facebook | YouTube | Instagram | Tiktok
And view all our latest fantasy football tips on our Homepage