Fantasy Premier League tips for the potential double Gameweek 35. Jian Batra presents 'Optimising a Potential Double Gameweek 35″, an article which looks into the near future, as Gameweek 35 will likely present a unique opportunity to gain a far larger sum of points through a potential Gameweek which could see eight teams doubling.  
Before I start, I must emphasise there is an element of speculation when it comes to the fixtures and scheduling which will be discussed below. However, planning is an essential component of any good Fantasy Premier League season, and I want to give you the opportunity to optimise this as early as possible, even potentially taking it into account when making transfers for Gameweek 34!
As I am sure many of you have seen, Ben Crellin has been a sensational help to the community, and I see no reason not to trust his well informed and researched predictions for the manner of the upcoming Gameweeks. The image below highlights the fixtures which I will be discussing: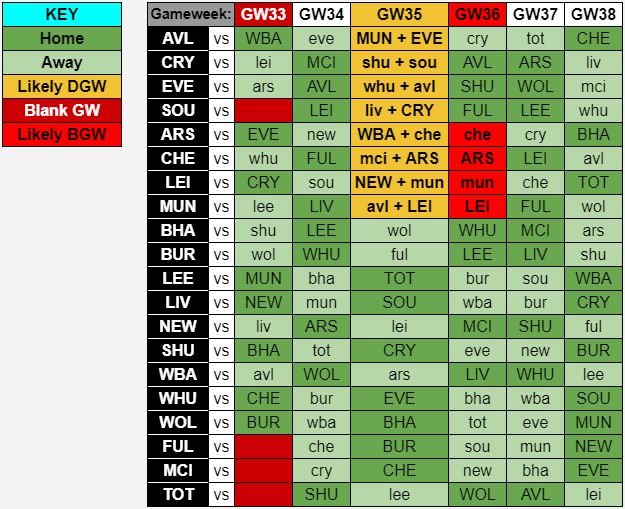 As seen multiple times throughout many different seasons, a large double Gameweek simply provides the best opportunity for one to have a Gameweek substantial enough to change an entire season, resultant of players having heightened ceilings and therefore giving captaincy and differential picks, the opportunity to be far more advantageous than they normally will be.
You only have to look back to double Gameweek 19, which saw John Stones amass 27 points, a ridiculous total, never mind for a defender priced below £5.5m. Whilst there is also the flip side of the coin, whereby a Gameweek like this can be absolutely punishing (hence why risk management is important), I prefer to find myself on the side of a positive approach and look to fully capture the opportunity presented.
I look at all eight teams noted to have a double Gameweek, and discuss potential prominent talking points when regarding player picks.
Aston Villa:
Fixtures: (Manchester Utd + Everton)
Villa are struggling, and are a side well out of form with them only picking up nine points out of a possible 30 from their last 10 outings. These fixtures include a defeat against Sheffield Utd, and draws against Wolves, Newcastle and West Brom, all games where I would say they are the stronger side on paper, respectively.
Jack Grealish's absence is also the duration of the time frame listed, and the fundamental reason I believe Villa have declined in performance levels to this extent, and naturally this has translated to poorer results. Against the "lesser sides" (sides in the lower end of the league and likely to set up defensively in a low block shape, e.g. Newcastle) Grealish's quality allows for two main things to happen, and they are both intertwined.
His general attacking quality allows Villa to sustain pressure in the opposition's final third, naturally the opposition will press and fatigue minimising the risk of Villa being attacked later in the game, countered off that particular attack (helping Villa defensively by minimising chances conceded) but also score goals from what he is able to create. In my opinion, having watched Jack Grealish multiple times it is clear to me that he is a world class footballer, and the opposition must cater to this.
Statistically speaking, a very similar conclusion on his importance can be drawn; Touches in the final 3rd (816, ranked 2nd in the league prior to Gameweek 26) and Villa went from a ranking of 6th best in the same time frame for xGC (29.40), to 7th worst (12.61) in the Gameweeks since.
As a result of the above the only option I would consider is a season favourite, Emiliano Martinez (£5.4m). Whilst Villa's fixtures aren't the best, both Man Utd and Everton aren't in great goal scoring form as of late and with his individual excellence, I wouldn't be surprised to see him return at least one haul across the two games. However, it must be said I don't expect Villa to win either game and imagine he will be busy on both occasions. Ollie Watkins (£6.6m), will be in a fair few teams but I don't see it viable to bring him in with his form, Villa's form and them facing a solid defensive outfit in Utd and a fairly decent defence in Everton.
Crystal Palace:
Fixtures: (Sheffield Utd + Southampton)
The fixtures are arguably the best combination you could possibly ask for, Sheffield Utd have comfortably been the worst side this season and Southampton the worst in 2021, with their defence looking dire. I was quite impressed by the Eagle's performance against Leicester from an attacking standpoint, Eberechi Eze was bright and looked menacing on the ball as always with his flair and trickery, Christian Benteke held the ball up well considering he was playing against 3 central defenders of similar size and had very little service.
However saying that, from a Fantasy Premier League standpoint both are unlikely to net large hauls and rarely give managers anything tangible and as a result I will be avoiding them. On the contrary, I really like their talisman Wilfred Zaha (£7.1m) as a pick and to an extent Patrick Van Aanholt (£5.4m).
I expect Palace to have slightly more possession and control of the game against Sheffield Utd, and as such Zaha to be heavily involved in the process of breaking them down and being on the end of chances. Zaha has been involved in 14 out of the 34 goals Palace have scored (41%), whilst not featuring in 8 league games and Palace rely largely on him. I expect Sheffield Utd to try and be more expansive given their opposition and their fate being sealed, which will present a clinical Zaha with the chance for a large haul.
The fact he is always integral and on penalties when Luka Milivojevic isn't on the pitch is a big plus for me. The Southampton game is another I really like, Hasenhuttl will continue to instruct his side to play with a high line (space in behind which Zaha can exploit) and press (which can be bypassed with good passing as it isn't of the highest quality, and I'm sure Hodgson will coach them on this in particular in preparation).
They have shipped 14 goals in their last 5 games, a dire record and one which Zaha will get the opportunity to worsen. I really wouldn't be surprised if Zaha walked away with a 15+ point haul over this Gameweek.
Van Aanholt's selection is justified by a combination of both fixtures and a slight appeal to history. Prior to this season we have seen the attacking capability he possesses, however it is yet to be demonstrated this season. I imagine given the opposition he will have a licence to drive forward increasing chance of a potential attacking return and I could definitely see Palace keeping Sheffield Utd out leading to a clean sheet, however Southampton less so. I would proceed with some caution when picking Van Aanholt but nonetheless he presents a good differential with logic behind it.

Everton:
Fixtures: (West Ham United + Aston Villa)
The most complicated problem this article addresses. You could argue both ways regarding the inclusion of Everton assets, and where I believe the problem arises is that against West Ham I would want attacking assets (Richarlison (£7.8m)), due to poor defensive performances recently, but against Villa I would want defensive assets (Lucas Digne (£6.1m)) for reasons discussed prior.
Again the problem of mediocrity arises whereby there is no standout candidate in each department but my take is that I wouldn't include more than 2 assets, simply because I think ceiling's for players will be slightly limited and Everton are playing at a "decent" level, but nothing more or less.
Looking at the attacking assets I would pick Richarlison over Dominic Calvert Lewin, Gylfi Sigurdsson and James Rodriguez. Richarlison looks certain to net 90 minutes, where I would say Sigurdsson (rotation) and Rodriguez (rotation and often subbed off around the 70th minute) are less likely to.
In terms of attacking involvement, from the eye test, which is what I base most my content off, Calvert-Lewin is manoeuvring to a slightly wider and supporting role than earlier in the season, he is also out of form in terms of finishing, having myself seen him miss chances I would expect him to score. Richarlison just generally seems to be finding himself more involved and in better positions which is essential for getting managers returns.
The situation with the defensive assets; Lucas Digne (£6.1m), Ben Godfrey (£5.0m) and Jordan Pickford (£4.8m) is a simpler one. Digne is the most expensive but has the highest ceiling due to his attacking quality in the LB role and set piece taking. Godfrey is the budget option, less likely to return attacking points but cheaper and will be easier going forward for managers to handle in terms of cash.
I imagine Everton will face a fair few shots, as they are ranked 8th worst (428) in the league for this statistic, allowing Pickford accumulate save points and with it bonus points. He is also a good option if you are looking to replace your keeper (Mendy/Leno heavily owned amongst players in the higher ranks).
Southampton:
Fixtures: (Liverpool + Crystal Palace)
I touched on Southampton previously and in particular their fixture against Palace so I won't go over that again, except reiterate I don't think given their defensive form their assets in that area of the field will be beneficiary. Whilst Liverpool aren't in the best of form their selves, it still isn't by any stretch a favourable fixture and I expect Liverpool to win it.
I personally think there are better options in both the midfield and forward areas, however if you have a gut feel that Southampton will score goals and return (which they most definitely could), I would look at Danny Ings (£8.4m) and James Ward Prowse (£5.8m).
Both are heavily involved going forward, amounting for 27 goal contributions between them out of the 40 Southampton have scored (67.5%). Ward Prowse has a monopoly over set pieces and penalties, and with the likes of Vestergaard with his heading ability, regardless of opposition, he will always find himself most likely to return. Further at £5.8m he presents excellent value for money. Ings is slightly out of form with 2 goals since Gameweek 25, and for that reason and the other listed above I believe Ward Prowse is a better option, but nevertheless Ings possesses a high level of quality and can always rise to the occasion.
Arsenal:
Fixtures: (West Brom + Chelsea)
Similar to Southampton I am not particularly bullish on Arsenal assets resultant of recent Premier League form, Europa League taking priority and injury/illness. Starting with the simplest problem, injury/illness, your best two forwards in Alexandre Lacazette and Pierre Emerick Aubameyang, alongside your best defender this season in Kieran Tierney, all being side lined is most definitely cause for concern, and in no way indicates Arsenal keeping clean sheets or scoring goals (negatively affecting all other assets).
Arteta has clearly shown his intent and goal is to win the Europa League, the team selection he put out away to Leicester when they were 2nd in the league a while ago is the best indicator of this, and I wouldn't be surprised if their most valuable players are rested against West Brom, a fixture which managers would want to target. Finally they haven't been playing very well in the league picking up 5 points in their last 5 games.
Given how cheap Rob Holding (£4.2m) and Bukayo Saka (£5.1m) are, I see them as slightly viable options but would definitely avoid the rest. In Saka's defence he himself has been brilliant as always, I feel as if he has been let down by his team mates slightly and as such, unfortunately regardless of his performances they aren't likely to translate to FPL points.
In terms of fixtures, Chelsea is a horrible one to have, very difficult to break them down, and with the quality they possess both from open play and set pieces I expect them to score. West Brom is one of the better ones but not as good as earlier in the season when they put four past them, due to a upturn in form and the huge incentive to avoid relegation.
Chelsea:
Fixtures: (Manchester City + Arsenal)
They are a team bang in form, demonstrated by a very competent performance against Real Madrid away in the Champions League. On the contrary they have the most difficult fixture set, including the most difficult fixture. Their attacking assets I would personally avoid including Mason Mount even though he's been fantastic.
My reasoning is that the goals Chelsea score come from such a variety of sources whether it be from open play or set pieces, and further they don't have one individual who has consistently been returning attacking returns for managers. Predicting Tuchel's front three has become something which has proved difficult and you would want someone who will certainly play both, not at rotation risk.
Chelsea have proven to be defensively brilliant, the 3-4-3 system Tuchel has employed, essentially nullifies the opposing attacking threat to an even smaller degree. Chelsea operating with three centre backs makes defending set pieces easier with the likes of Zouma, Rudiger and Silva possessing excellent aerial ability. (Chelsea ranked 3rd for xGC from Set Play's since Gameweek 20), there is far less space for the strikers to operate in on the counter, as the space is likely to be on the flanks, as the wing-backs (Alonso and James) push up, and naturally this will be less of a concern.
Whilst I expect Chelsea to keep a clean sheet against Arsenal, it will be far harder against City given their attacking talent and desire to wrap up the league.
I believe Rudiger (£4.7m), Mendy (£5.2m) and Azpilicueta (£5.9m) are the best defensive options, as their minutes on the pitch seem fairly secure and Rudiger can always score a goal with his great heading ability, and if Azpilicueta finds himself in the RWB role again, naturally that will be beneficial in the likelihood of getting attacking returns. Mendy's ceiling is limited due to Chelsea facing less shots (32 faced on target since Tuchel's appointment, ranked best in the league), hence less save points and therefore less bonus points.
Leicester and Manchester Utd:
Leicester fixtures: (Newcastle + Man Utd)
Man Utd fixtures: (Aston Villa + Leicester)
I have combined them due to their fixture against each other, and relatively same opinion of their first fixture of the Gameweek.
I expect both sides to have a fairly good chance of scoring a few goals at least. Newcastle are yet to keep a clean sheet for the past six league games and I have previously spoken about Villa's defensive problems. Leicester I believe are the more likely to concede of the two given Newcastle's improvement in terms of attacking performance, often stimulated by Allan Saint-Maximin's brilliance on the ball.
United less so for reasons discussed prior. However saying that I am still bullish on their attacking assets, in particular the man of the moment, Kelechi Iheanacho (£6.2m), Jamie Vardy (£10.3m) and James Maddison (£7.3m).
The United assets I would consider are Bruno Fernandes (£11.5m) and Mason Greenwood (£7.1m). I completely understand people's approach when including Bruno, and given his ability I have listed him. However I personally think over the last six games he has been very poor, potentially due tot fatigue and whilst this hasn't been given much light in the media due to his early season heroics, I think his drop off hasn't been given much light too.
I personally will be taking him out for Zaha, as I think Utd aren't playing particularly well going forward and he isn't as integral as he previously was. Greenwood is the form man, and given his price point I understand picking him as a differential but again I believe there are better picks such as Maddison, Zaha and even players who don't have a double Gameweek like Son.
I believe the Leicester vs Man Utd game will be one where we see both teams score, however not a flurry of goals and one which Leicester will just edge. Given this, I believe the money is better spent on the Leicester assets listed.
Get Iheanacho in ahead of anyone, he has been utterly brilliant, whilst Vardy and Maddison less so, and there's no reason he can't continue this. He has outperformed most players in combined xG and xA (0.66 per game), a stat bettered by no one since Gameweek 26.
I hope this article has helped, and there is a free trial down below for a membership!
Feel free to DM me on twitter, @FPL_JianBatra for any questions you may have or drop them in the comments.
Become a Hub member for free
What do members get access to?
New app
Follow the Hub
Twitter | Facebook | YouTube | Instagram | Tiktok
And view all our latest fantasy football tips on our Homepage