I have had a long held feeling that defenders (and keepers) represent significantly better value in fantasy football games.  After many years of conversations about this (with a few equally FPL obsessed players who may or may not agree) I have decided to have a proper look at this question…
How should you spend your fantasy budget to get the best return on investment?
To start there are a few things that need to be reviewed to answer this fully:
How do we predict points returns for 2018/19?
Is the £100m budget the best way to review return on investment (ROI)?
Are there any differences in ROI across positions?
Are there any differences between teams in fantasy ROI returns?
Who are the best ROI players in each position?
Should we pick a captain based on ROI or total predicted points?
Jump straight to the last page if you want the full conclusions but the short answer is spend at the back for the best value, pick a high points potential captain and remember this is a long term strategy so stick with the plan and don't react to a couple of bad game weeks.
How do we predict points returns for 2018/19?
I have taken a simple approach to this by looking at the points achieved in the last two seasons by all players in the game this season.  New players to the game are excluded from the data (as its very hard to predict returns with no data).
The prediction equation weights last season's points more than 2016/17 where a player has returned regularly.  I have manually adjusted certain players scores based on signing half way through a season or due to long injuries to account for the score they would have got at that scoring rate.  I also add a slight increase in points to account for players gaining experience the longer they are in the league.  Finally, there is a manual reduction for those players who are now rotation risks or potentially overachieved.  I do not personally believe Salah can get 300+ points next season with only one year's data available.
Oh, and I am happy to collaborate to provide a more accurate prediction for each player if someone has a better way of predicting points returns and wants to share.  DM me on twitter @elldubya1 to discuss.
Here are my predicted top players in each position: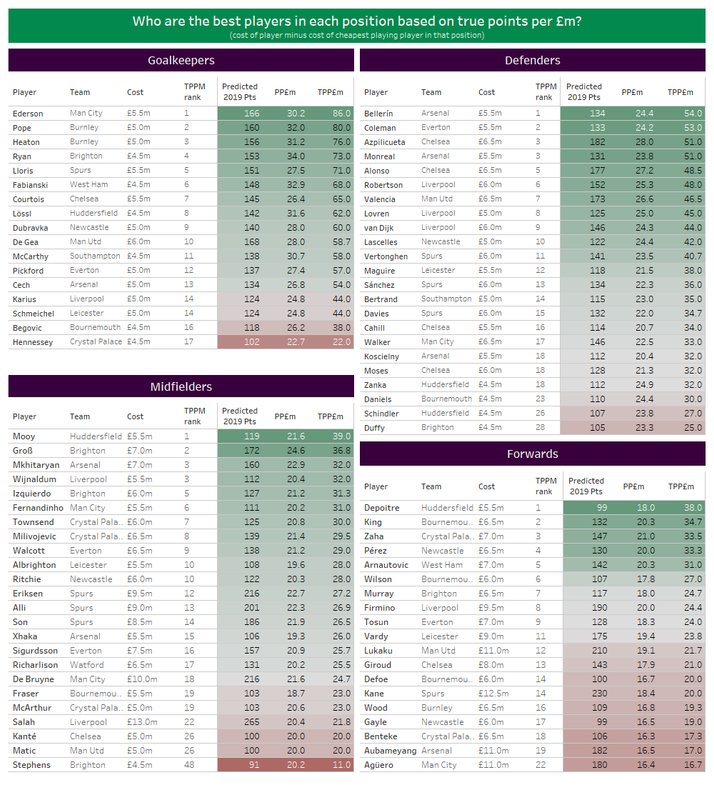 Is the £100m budget the best way to review return on investment?
To answer this question the FPL manager needs to decide if the base cost of each player is £0m or the lowest price of the lowest likely playing player in each position (e.g. £4.5m)?    This is subjective but personally I think it is important to remove the default funds for each player to get the True Points Per £m (TPP£m) for each player vs. Points Per £m (PP£m).
When reviewing this way our budget shifts from £100m to £31m (by removing the £69m base cost for the 15 players)
-£4.5m (x2) for GK
-£4.5m (x5) for DEF
-£4.5m (x5) for MFD
-£5m (x3) for FWD
For the purposes of the analysis I have used both views to help make my ROI conclusions.
Are there any differences in ROI across positions?
Looking at this by both calculations (PP£m & TPP£m) there are differences between positions with ROI being greater the further back the field you go.  So, the more you invest in your players at the back the more you estimated return on investment increases.  There is one caveat to that when we look at captain options, but there is more on that later.

Are there any differences between teams in fantasy ROI returns?
There is a very simple answer to this….. Yes!
Certain teams have been priced higher this season (Man City, Liverpool) while others have been priced lower (Everton, Southampton).  The result of this is there is likely value in certain players of certain teams if they perform at the same level.  Others from, from strong performing 2017/18 teams, must perform far better than last season to break even.
Going a step further and reviewing positions within teams it appears defenders from Arsenal and Chelsea look well priced while strikers from Everton, Palace and Newcastle offer excellent value.
Interestingly, despite high predicted returns Liverpool attackers (MFD and FWD) collectively will have to score more than last season to provide decent ROI options for this season.   But this is looking at the overall playing squads, not individuals, so more on the players to watch in the next section.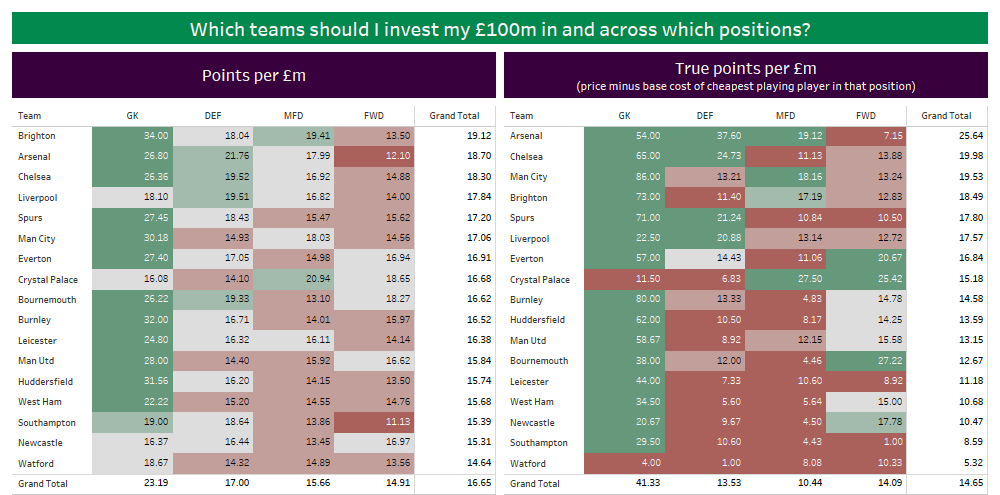 It is also important to mention that only 11 players can ever play so investment in the substitutes is far less important than the playing assets.  Basically, get the best value subs you can get for £4.5-5m in each position but don't focus on spending too much on them (there are plenty of articles out there on this already).
Who are the best value players in each position?
The graphics below highlight that there are differences across each position for ROI.  For keepers and defenders, the more you invest the better value you get (both by PP£m and TPP£M) while Midfield and Forwards the ROI is the same or worse the more you invest.
What's very interesting, and quite crucial for picking a team on ROI, is that many of the big-name players in midfield and forward categories can be covered easily by lower priced players who represent much better value for money.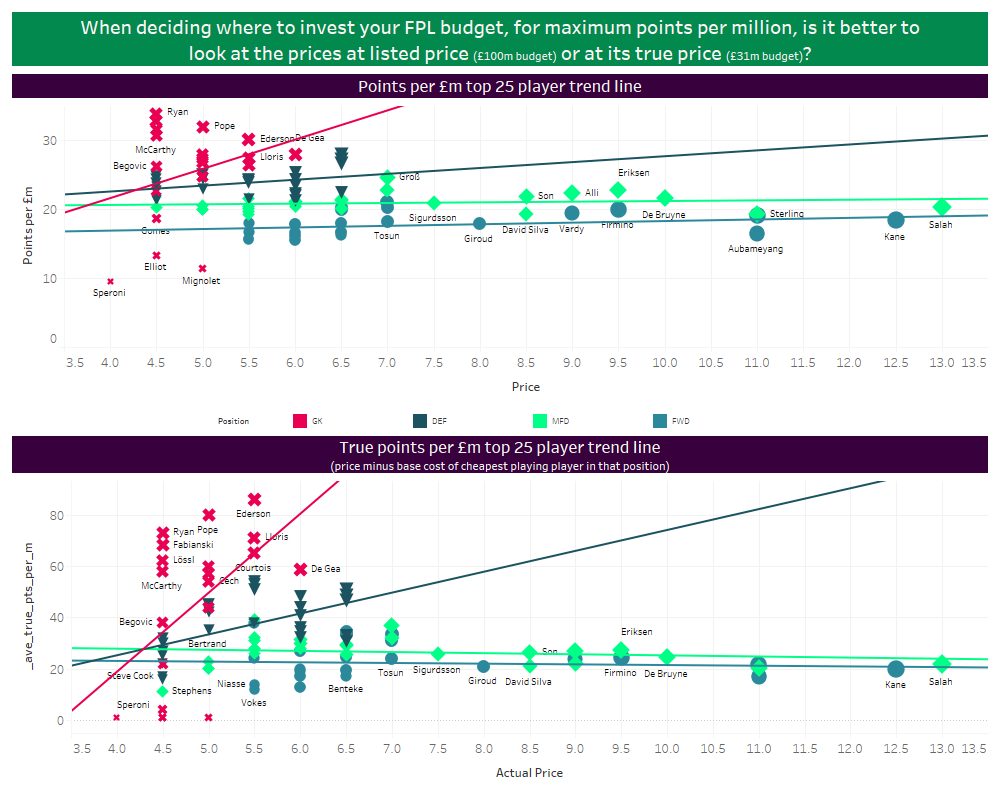 This gets more interesting when look at individual players by both ROI views (PP£m vs TPP£m).  The graphics below break down the info by each position for the predicted top 15-25 players in each position.
In summary, depending on your view of how to measure ROI your top value players are: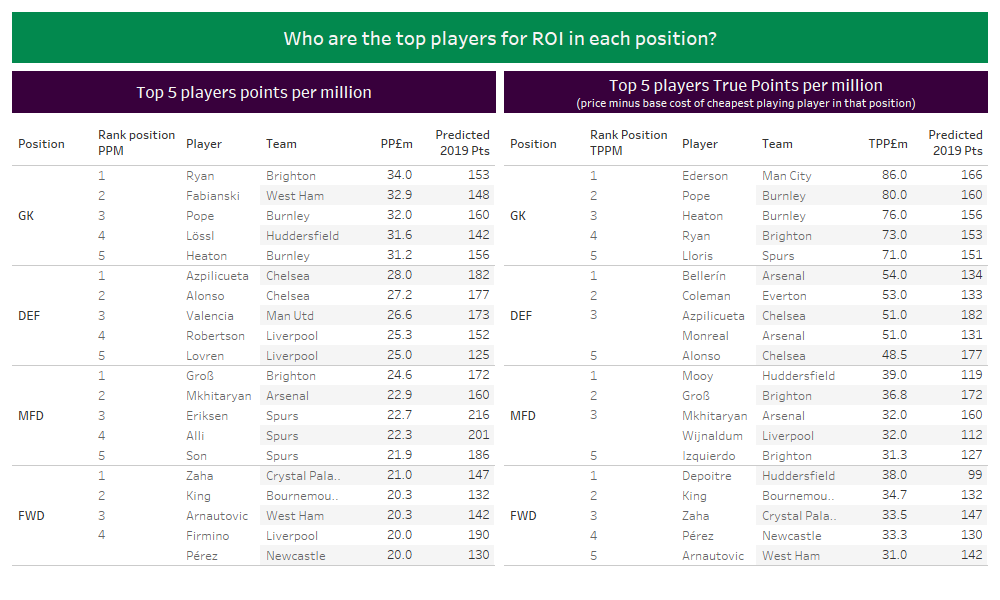 A final view of this has the top players for all positions together.  This further highlights the importance of investing at the back.
The conclusion here is to invest in higher priced defenders (and keepers) over midfielders and forwards if aiming for the highest ROI.  There is one exception to this and that is around who you will be captaining.
Should we pick a captain on ROI or total points?
My simple conclusion is total returns is key for the captain choice! Every FPL team (even 100% ROI focussed ones) needs at least one high ceiling player, possibly 2-3, if you are aiming for the highest overall points.
I have created a calculation to review the points per value difference between that individual and the highest predicted scoring player in the game (Salah at 265pts).  This throws up some interesting feedback for captain choices.  The charts below highlight that you should have a captain with very high potential returns regardless of the value.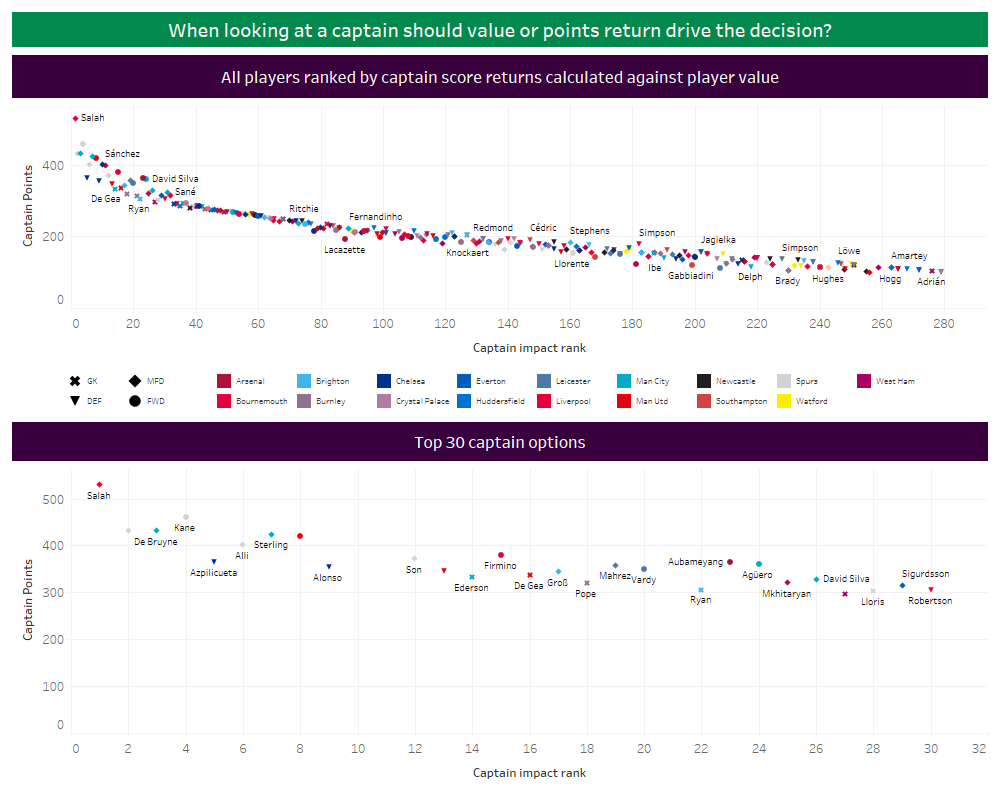 Taking the approach of having just one captain all season then based on my predictions there are only 4 viable captain choices
Salah
Kane
Eriksen
KDB
If you are comfortable with a higher risk rotation approach to captains then a few additional options (Lukaku, Alli, Sterling) have high returns but fall lower down the value scale and a couple of others (Azpi, Firmino, Son) offer a decent value captain choice with lower returns.
Either the single choice or multiple option approach can work for the ROI focussed fantasy manager.
Of course, captain picks should be based on more than value and season returns so my advice is pick a strategy and stick to it.   Once established focus transfers on getting the best available captain you can afford or improving the weakest player in your squad.
How should you spend your fantasy budget to get the best return on investment?
My conclusions are that to optimise the return on investment (ROI) the fantasy team should include the following:
Your actual budget is actually £31m not £100m. Spending 25% on Kane or Salah is a very big decision.
Pick one (or two high ceiling players) to provide captain options. Keep in mind some of these offer better value than others so aim for those where possible.
THIS IS A LONG TERM STRATEGY! Keep faith if your value player is in the starting XI. They will come good over the season, that's the point in the value game.
Defenders offer much better value than midfield and forwards. Focus the next part of your budget on at least 3 higher value defenders (4 even 5 at the back is a good option for ROI).
Pick either Edison or a 4.5m as your keeper (depending on available budget) and play them in every game. Get a £4m as backup which should probably from the same team if possible.
Focus the bulk of the budget on you first XI and arguably the 1st sub as well. Go as cheap as you reasonably can for the rest of the bench (who should all be regular starters if possible).
Focus transfers in the following order, avoiding hits where possible:

Have 11 starting players
Optimise captain choices
Improve your weakest area of the playing team
Bring in good cheap playing bench players asap (i.e. the £4m GK's and DEF's that immerge)
Fix bench issues
Have fun….
As a final parting gift here is an example team based on the best value options in each position with one good captain choice for the season.
Benefits of this team:
        Predicted 1st XI score of 2125 (inc. captain points)
        Salah and Kane for 2 very good captain options
        Best Keeper for ROI
        4 strong defenders for ROI
        Top 3 predicted value midfielders
        2 of the top 3 value forwards
        3 playing, low cost, bench players
Biggest Possible downsides:
        No Man City offence
        No Man Utd coverage
Join in our new forums and jump in our FPL League (cash prizes on offer). Please also consider supporting the site and its contributors by becoming a member via this link.